For more information, see the council website here.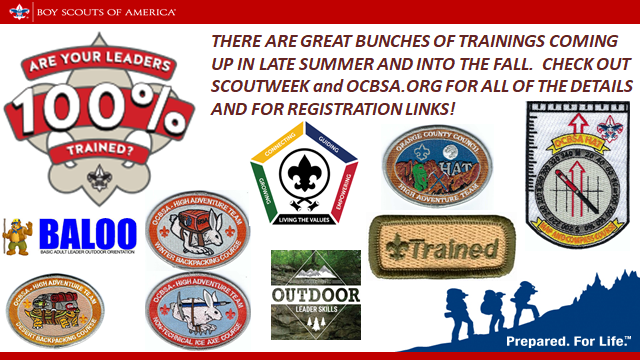 September 2023
October 2023
November 2023
December 2023
California Assembly Bill 506 and Youth Protection Training
These new requirements are for everyone regardless of Boy Scout registrations status 18 years of age or older and who has direct contact with, or supervision of, children for more than 16 hours per month or 32 hours per year. They consist of:
For more information, visit https://californiascouting.org/
---
YPT – Youth Protection Training
YPT is a required training for all BSA registered volunteers and is a joining requirement. Youth Protection training must be updated every year year. If a volunteer's Youth Protection training record is not current at the time of recharter, the volunteer will not be re-registered.
The training course is completed online and takes about 2 hours. Click here for more information and to begin your Youth Protection Training. Click here for the "How To Guide" for taking YPT.
---
BALOO – Basic Adult Leader Outdoor Orientation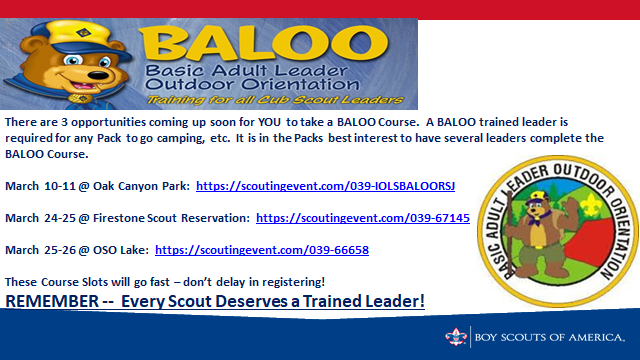 This is a two day program designed as introduction to the Cub Scout outdoor program for those leaders who are interested in adding a camping component to their pack activities. BALOO is an instructor-led course which is conducted at the District and Council level. BSA's Cub Scout level camping policies will be taught along with necessary tools to help units carry out successful camping experience.
Completion of this course is mandatory for at least one adult on a Pack overnighter.
---
IOLS – Introduction to Outdoor Leadership Skill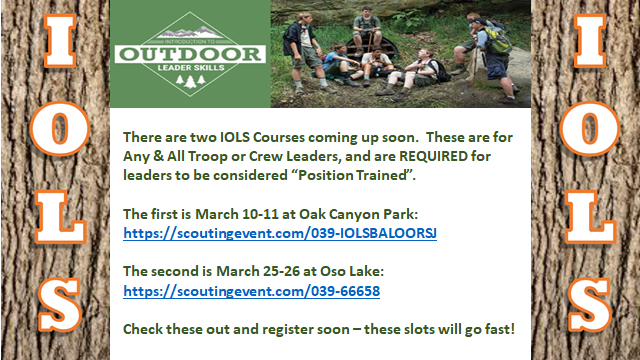 IOLS is a two day program that provides Scouter with the confidence to take youth into the outdoors. Specifically, this hands-on-program gives adult leaders a practical introduction to the patrol method of a scout-led-troop by teaching many of the practical outdoor skills they need to lead Scouts in the out-of-doors. In addition, the teaching methods, activities, and games model the variety of teaching used in effective and engaging Scouting programs. The skills sessions presented in IOLS closely follow the Scouts BSA Handbook, trainers can be sure new leaders are proficient in many of the basic outdoors skills through First Class rank and gain exposure to the patrol method and numerous teaching methods and learning games.
---
WOODBADGE – Intensive Leadership Skills Training for Scouters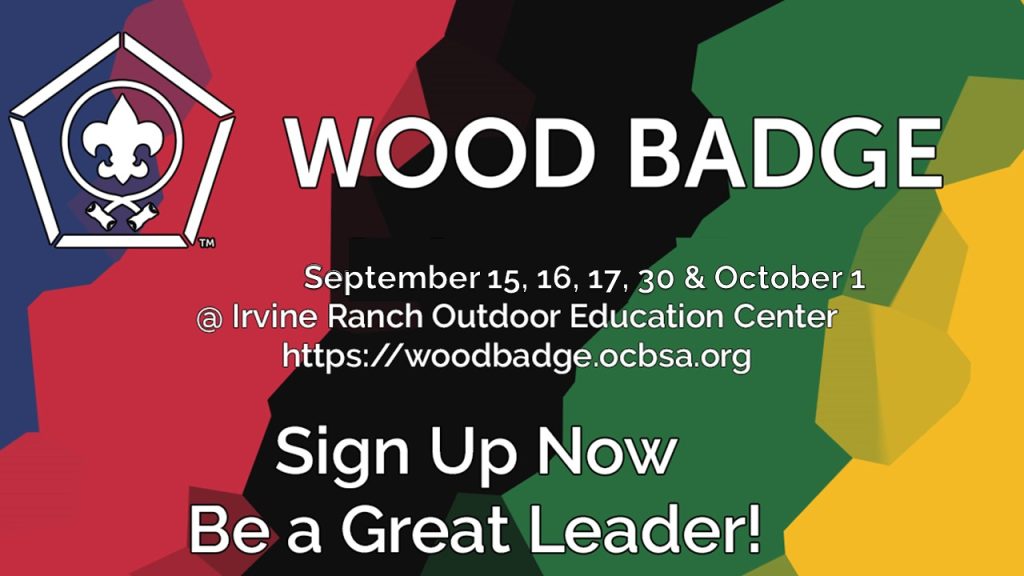 Woodbadge is the ultimate leadership training program available for Adult Scout Leaders who are involved in the programs of the Boy Scouts of America. Wood Badge is designed to train leaders using the latest skills and techniques of Leadership. Similar courses in the Corporate world cost thousands of dollars per attendee and may not offer the same depth. It is hoped that every Cub Scout, Scouts BSA, Sea Scout, Varsity and Venturing Leader, as well as District, Council leaders and Professionals, will take the Wood Badge course within two years of becoming a scouter.
This course takes place over two (2) weekends / 5 days. You must be able to attend both weekends.
---
HAT – High Adventure Training
To provide the awareness of important issues and considerations that will give a strong sense of confidence to those adult and youth leaders who will plan and lead high adventure treks while ensuring safety and enjoyment.
To disseminate information to the Scouting Program about high adventure experiences, special programs, outfitters, instructional resources, developments in equipment and techniques, and about the policies of the Forest Service and Boy Scouts of America.
To work with the U.S. Forest Service and other similar organizations in developing and organizing ways in which to motivate and involve the Scouting Program in helping to maintain and conserve the natural environment and high adventure accesses into and through that environment.
To develop programs and incentives through special opportunities and awards that will motivate the members of the Scouting Program, both youth and adults, to challenge themselves to the experiences of adventure and the natural environment.
---
WFA – Wilderness First Aid
This is a required course for leaders taking Scouts into the back country at all four of the BSA's High Adventure bases, and is recommended whenever they will be 30 minutes or more from access to emergency services. Anyone, age 14+, can attend, and it can be engaging and fun. This training is the assessment of, and treatment given to, an ill or injured person in a remote environment where definitive care of a physician and/or rapid transport is not readily available
Attendance at all sessions are required. All participants must be at least 14 years of age, a current member of the BSA, and hold the Basic First Aid/CPR/AED card.
---
Roundtable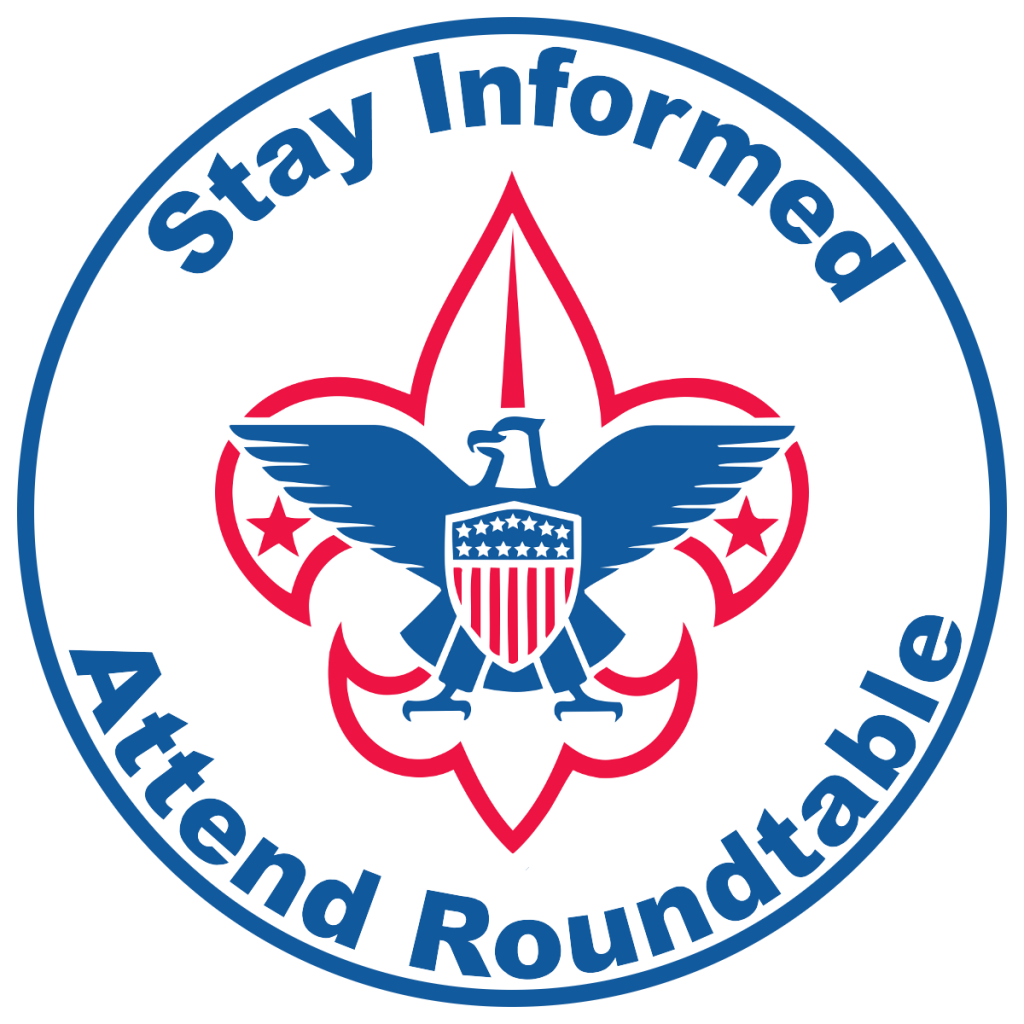 A monthly Canyons District meeting for all Adult Leadership and Scouters in both Scouts BSA Troops and Cub Scout Packs within the Canyons District area. Important information regardingevents and activities to all units in the District as well as specialized training or discussions called "breakout" sessions, which focus on a specific topic for both the Cub Scout Leadership and Scouts BSA Leadership. These sessions are an opportunity to learn new information about the Scouting Program and to ask questions. Second Thursday of the month at the Cerro Villa Middle School in Villa Park.