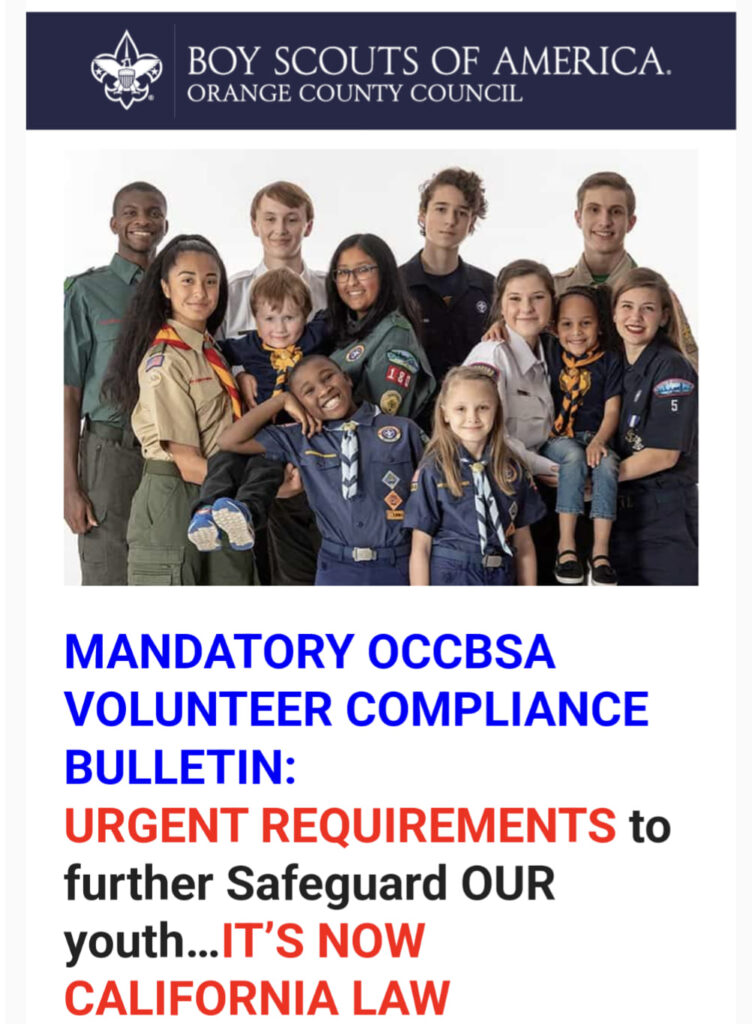 URGENT REQUIREMENTS to further Safeguard OUR youth…IT'S NOW CALIFORNIA LAW
AB 506, Mandated Reporter Training and Live Scan:
As a Scouting volunteer, you understand the importance of keeping children safe. A recent bill (AB 506), passed by the State of California, requires volunteers and staff of any youth service organization to complete training in child abuse and neglect reporting, and undergo a Live Scan background check.
AB 506 went into effect on January 1, 2022 and requires that ALL registered BSA volunteers and employees, including camp staff, (already required to take BSA Youth Protection Training), and ANY unregistered volunteers who are 18 years of age or older, and who have direct contact with, or supervision of, children for more than 16 hours a month or 32 hours per year MUST DO THE FOLLOWING:
Complete a ONE-TIME online mandated reporter training* (2 hours)

Past due from February 28, 2022 (about 25% have done so already)

Complete a ONE-TIME Live Scan background check* (the digital version of inked fingerprinting)
*The following website, a one-stop resource developed purely from the passing of AB506, supports all of California's Scouting volunteers to ensure that we comply with California's new law:https://californiascouting.org/

Thank you for joining us in meeting the letter of the law to further safeguard our youth, and furthermore for your patience and understanding as we all work together to implement this California mandate.